Shower / privy enclosures provide a measure of privacy when using outdoor showers or porta-potties. They can also be placed over temporary toilets, such as pit or trench toilets.
There are quite a few tents available, in a variety of shapes and sizes. As of this writing, however, there are three or four that stand out as being worthy of consideration.
Outback Porta-Privy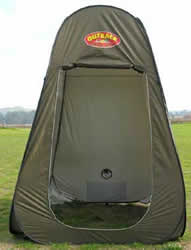 This one's my favorite – it's the one I use and I love the design. It's a pop-up tent, using wire loops – pull the flat disk out of its back, shake it and throw it away from you… and the whole thing pops into shape! It'll need a little tug to expand it fully, but the whole thing sets up in a matter of seconds.
Once up, it's very sturdy, though not sturdy enough to hang a solar shower from the top (few tents are). There's a zip-open roof for ventilation, a zippered access hole at shoulder height, which lines up with a towel line on the outside of the tent, so you can pull your towel in without having to open the door.
There's no built-in floor, which is a bonus in my mind. I set up the tent on grass, and let the water soak into the ground – I'd much rather have this than a wet and dirty fabric floor. If you like having a floor, or if you're set up on dirt that would end up as mud, the Outback comes with a floor that velcroes easily into place.
The door's zipper glows in the dark!
The one downside of the tent is its folded size. It packs down into a disk about 2 feet in diameter, so finding a place to store it can be difficult. Luckily, it's a flat shape, only an inch or two thick, so I found a spot for it behind the second row seat.
Collapsing the tent is also very quick, once you get the hang of it. The first time took me about a minute, 50 seconds of which were spent puzzling over which way to fold it! Others have reported endless frustration, but I think the average of all of the many reports I read was about a minute or two the first time, and 30 seconds from then on. The fast setup and take-down are invaluable assets, in my opinion – you can set up a toilet, use it, and tear it down in less than a minute (plus the time you need to use it!) You can do a roadside pit stop and be done before anyone's the wiser.
You can buy it from Amazon for $65 or so.
It's been discontinued! This Leapair instant pop-up privy tent looks very similar, and gets the highest Amazon reviews. I haven't tried it, so I can't report on its durability or design, but those who've bought it really seem to rave about it.