Overview
Pop-tops are the ultimate camper accessory. Sitting low to the roof of your vehicle when not in use, they don't affect fuel consumption or access to low areas like a high-top does; when parked, simply turn the latches, push up, and you have instant headroom and natural light. Most, if not all, pop-tops can also include a bed.
As far as I know, there are a few ways to get a pop-top installed onto your van. This page covers commercial installers; for do-it-yourself ideas, check out the Build your own poptop page.
Sportsmobile
Sportsmobile are a well-known Ford and Chevy converter, making customized vans for overland adventure. They'll also install just a pop-top into your existing van, for $6000 to $7000. Ford vans can be regular body or extended, 1992 and newer; Chevrolet vans must be 1994 and up.
2007+ RB low roof Sprinters, Dodge ProMaster low roof, and Ford Transit low and medium roof vans can also be fitted with pop-tops.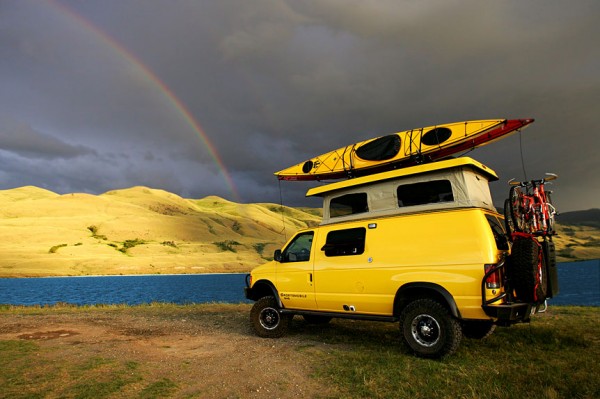 The optional bed in the pop-top (or 'Penthouse Top') is relatively small – 41″ wide by 76″ long. There's an extra six inches all around for 'elbow and leg room' but it's not part of the padded mattress. Still, two can sleep comfortably up top. The top itself is strong, and the conversion (according to Sportsmobile) actually strengthens the roof!
Electric lift is an available option, as is solar prewire (the wires are built into the top and fed into a body pillar inside). Electric lift tops can carry up to 150lbs of gear on the top, and still be raised and lowered; Sportsmobile recommends no more than 40lbs on manual lift tops. From experience, I can recommend the electric lift – the manual lift is difficult to raise, especially for anyone under 5'9″ or so, and the extra carrying capacity of the electric is well worthwhile. Adding even a solar panel to the manual lift top throws off its balance for raising and lowering it. The electric option does add about $1000 to the price.
With the top popped, there's 6′ 10″ of headroom (8′ in the Sprinter).
GTRV
GTRV (aka Coast Outfitters) do full conversions as well as partial – including installing poptops on a range of vans: Sprinters, Ford Transits, Mercedes Metris, Ford full-size vans (the old E-350s, etc), Chevy/GMC full-size vans, Toyota Siennas, Chevy Astros / Safaris, and more.
About their fullsize van tops, GTRV tells me: We actually use 2 tops, one we call the shell which goes from under the windshield gasket to the rear rain gutter and from rain gutter to rain gutter on the sides.  This is permanently fastened to the original roof of the van and forms the foundation and depression for the pop top to set in so you get a smooth silhouette and therefore no wind noise or leaks. Both parts are hand laid fiberglass, which we do ourselves using a special process and internal bracing to keep everything light and strong, you can walk on our roof even though it's only 1/2″ thick. We only add 3/4″ to the height of the van for the full size.
Their minivan tops are one-piece, and add about 5″.
The optional upper bunk is up to 6'7″ long, and about 42″ wide, with some extra, non-padded space around it. Tent material can be customized, for something other than the regular tan canvas.
They have two locations: a Canadian shop outside of Vancouver, in Richmond, British Columbia; and a US shop in Sebastopol, CA.
Tops come in angle-rise versions (V-tops) or straight-up pops (T-tops) and are low-profile – hence the GTRV label: Garageable Top RV.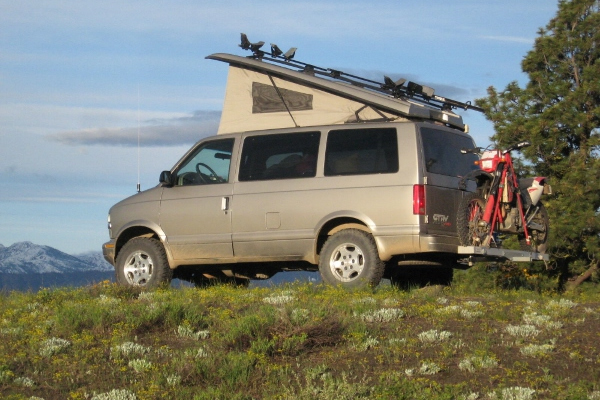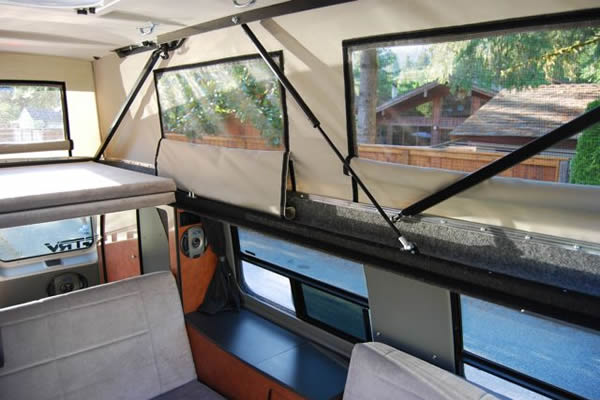 (Left: from gtrv.com; Right: vwteleman on sportsmobileforum.com)
Prices are about $8000+, the last I heard. Their rep wouldn't give me an exact number over email. Their customers speak highly about the quality of work, and the pictures that I've seen of recent conversions back that up.
Colorado Camper Van
Colorado Camper Van is starting to build momentum with the 4×4 van crowd, who love the custom approach to poptops and the giant spaces that they create.
The owner started with his own poptop build, shown below and documented on expeditionportal.com, and from there created his own company doing van conversions. He's located about an hour and a half north of Denver, CO.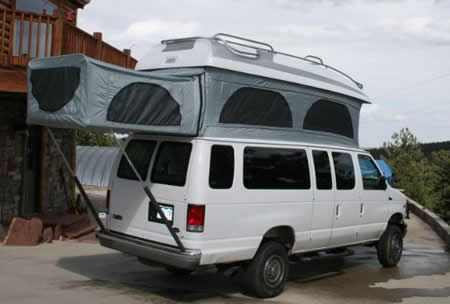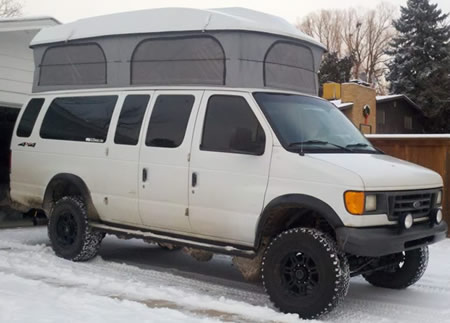 Another build (above right), this time for a customer, was documented on sportsmobileforum.com. The finished product looks nice, with a larger cutout than the Sportsmobile top, and electric lift.
The most recent news includes a new, lower-profile top: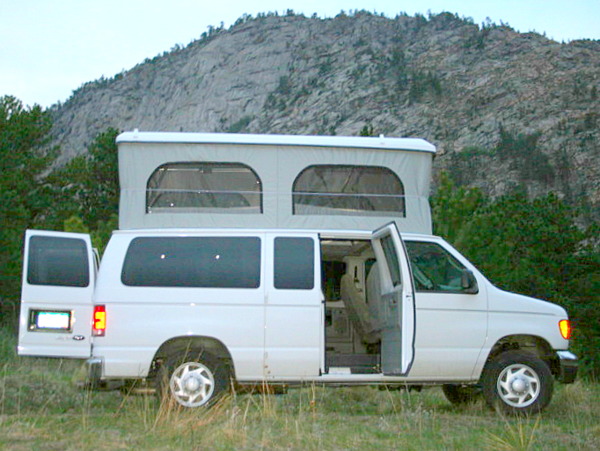 The website says that they can convert any type of van. Pictures on the site show Ford vans, a Chevy Astrovan, and a Ford Excursion SUV with a poptop. The low profile top (about 5-6″ above drip rail) is $6200 and includes electric lift, flip-up bed, LED lighting, and a white gelcoat finish. High-top poptops are also available (about 18″ above drip rail), and the rumor is that a medium height top (about 14″) is in the works. Though the website doesn't mention it, I've heard that the poptop can be shipped as a kit for DIY or local installation.
CCV also offer a top bunk solution for $2400: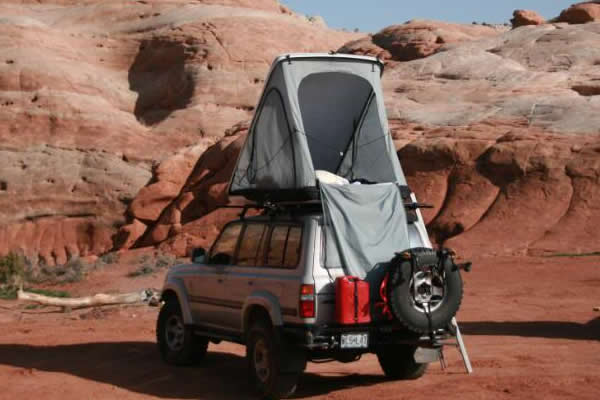 This picture is from the Colorado Camper Van site.
http://www.coloradocampervan.com
Ursa Minor ECamper
Ursa Minor have developed a very nice poptop for the Honda Element, turning this clever little vehicle into a compact camper. The ECamper conversion consists of a fiberglass and carbon fiber topper, that is permanently attached to the vehicle. It uses gas struts for lift, and access to the top is either through the sunroof, if your Element has one, or through an access hatch that Ursa Minor will install for you. There's also access to the tent from the outside.
The mattress is an inch or two over 7 feet by 4 feet. Standing height through the entranceway is 6'6″.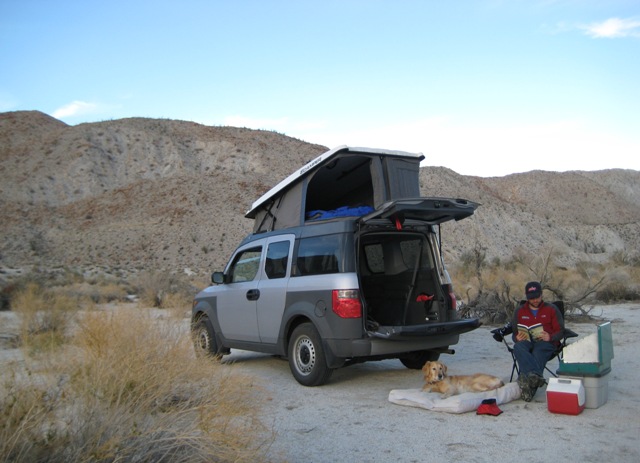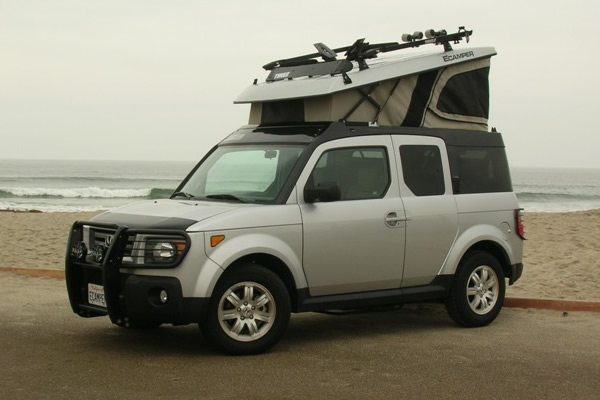 The top fits all years of Elements, and starts at $5250. Add-ons like color matching, access hatch installation, roof rack mounts, etc are additional.
http://www.ursaminorvehicles.com/camper.htm
Ursa Minor Jeep Camper
When the Honda Element on which the ECamper was designed was discontinued, Ursa Minor went looking for other vehicles onto which to graft their cool little poptop. Out of this search comes the Jeep Camper J180 Habitat and the Jeep Camper J30 – two poptop solutions for the Jeep Wrangler Unlimited.
The J180 Habitat hard top is a fold-over tent, that sleeps up to four adults. It's not to be confused with a roof-top tent, since it's still accessed from inside the vehicle (though it can also be accessed from outside). The living space is massive – the platform hinges over the front of the vehicle, providing 4 feet of headroom in the front portion, and over 7′ in the rear accessway. Pricing starts at $9800 and goes up from there with the addition of side glass, paint match, and accessories. The J180 is sold directly through Ursa Minor, as well as through the well-respected Adventure Trailers outfit as the JK Habitat. The Adventure Trailers site provides more detailed information about this top.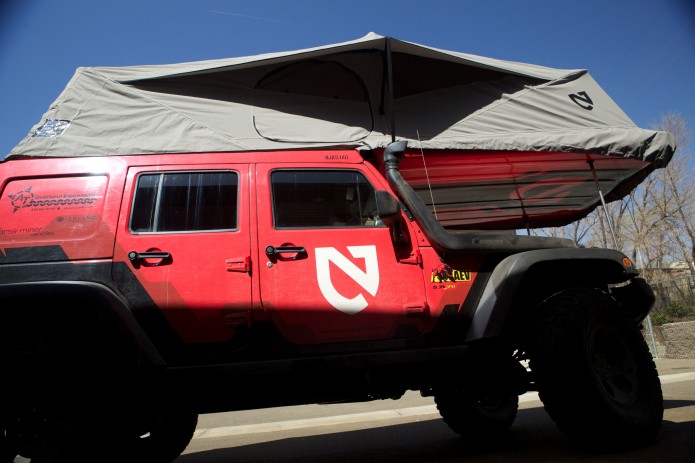 Photo: adventuretrailers.com
Their other option is the J30, a more traditional poptop. It pops up on an angle, similar to the classic VW poptops we're used to, and sleeps two on a 2″ foam mattress measuring 87 x 51 inches. The J30 starts at $5750.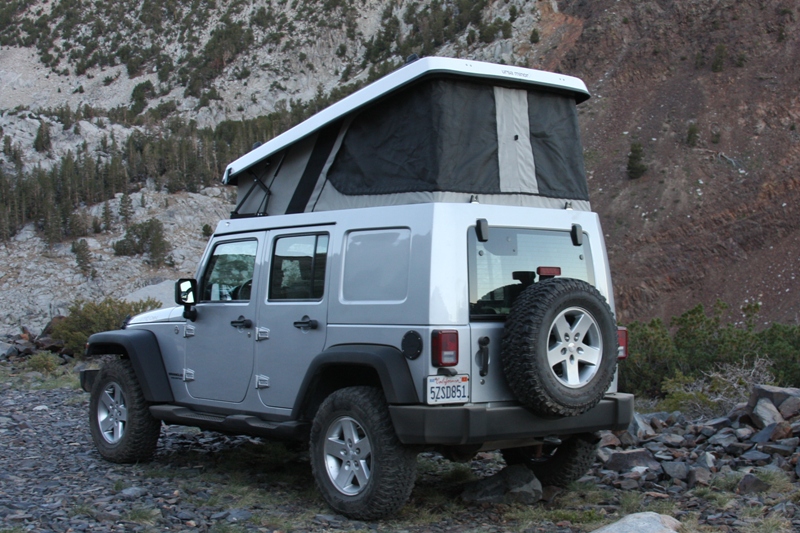 Both tops take the place of the factory hard or soft top, and can be removed when not wanted.
http://www.ursaminorvehicles.com/campers/jeep-camper.html
North Westy
North Westy are based in Washington state, and will add a poptop to your hardtop VW Vanagon.
Total price is around $8500 and includes the factory fibreglass top, with new canvas and new seals.
http://www.north-westy.com/poptop-conversions/
Other conversions
Those listed above are the only companies I know of that will fit pop-tops to your own van/jeep. There are other conversion outfits that will include a pop-top in a new conversion out of the factory.
Safari Condo has a number of different tops available.
There are also pop-top camper inserts for pickups, which I don't cover here (yet!)
Cool, but unavailable
American Expedition Vehicles has a sweet looking pop-top concept for a Jeep Wrangler: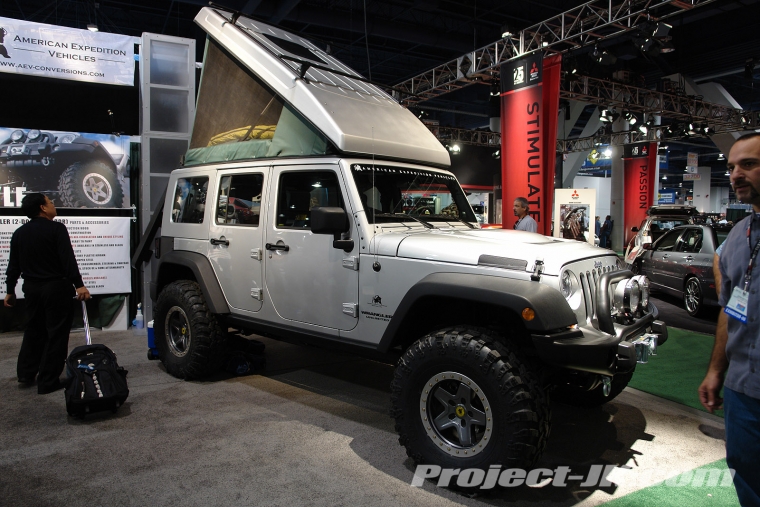 Build Your Own
I've started listing DIY poptop installation projects on their own page. So far, these all use old VW / Westfalia poptops, on a variety of van platforms.