I've never added camper shells to this site, mainly because I'm a van guy at heart, and camper shells seemed more along the lines of an RV than DIY camperizing. But there are a few options out there that provide a bare shell, which can be used as the basis for a really cool rig.
AT Overland Equipment
The Toyota Habitat is maybe the coolest thing I've seen for a Toyota Tacoma – a camper shell with fold-out tent, that sleeps up to three and provides standing room in the bed of the truck. It's built from aluminum and has a quality tent – the whole thing reeks of rugged technology. It's also super light – about 350 pounds!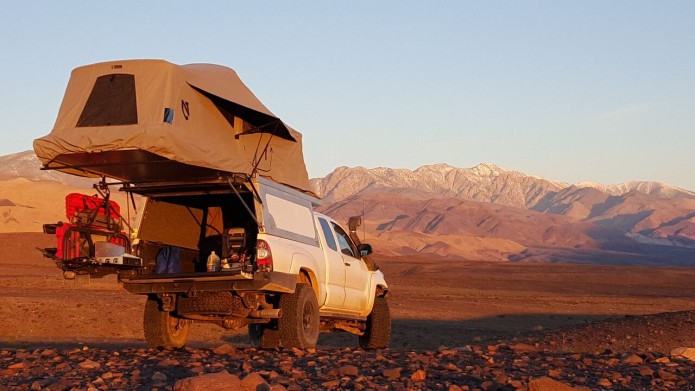 It's not cheap, starting at over $8000 and rising with options, but it's a nice combo of topper and roof-top tent.
Four Wheel Campers
These guys are pretty well known in the overlanding world, at least in the United States, and they offer a few different models of pop up truck campers. They also offer a bare shell model, for $12,000. That's a considerable chunk of change, but compared to the AT Overland model above, the Four Wheel Campers shell includes a forced-air furnace and a deep-cycle battery powering a 12V electrical system. There are endless additional options, allowing you to fully spec out your camper if you wish.